livraison gratuite dès 35$ d'achat au Canada
Login
Log in if you have an account
Dont have an account? Register
Product description
More robust, yet not aggressive, the Barefoot soap bar will help you maintain good foot hygiene due to its specially formulated paste.
We offer you a blend of essential oils created specifically for its refreshing, antiseptic, antifungal, and soothing qualities. Treat yourself to a moment of relaxation with woody, herbaceous, and fresh notes.
*Please note that we have chosen not to add abrasives for a simple reason: Pied-nu soap is designed to clean effectively while being gentle on the skin. Any addition to the soap reduces its concentration and, therefore, its effectiveness. To address corns or calluses, use a tool designed for that purpose.
The Barefoot soap is presented in a bar of approximately 200g* and is sold individually, in a cotton bag.
* The weight and size of a soap bar may vary slightly over time depending on its moisture content. As the soap dries, it becomes lighter but more concentrated. However, the amount of soap paste in each bar remains the same.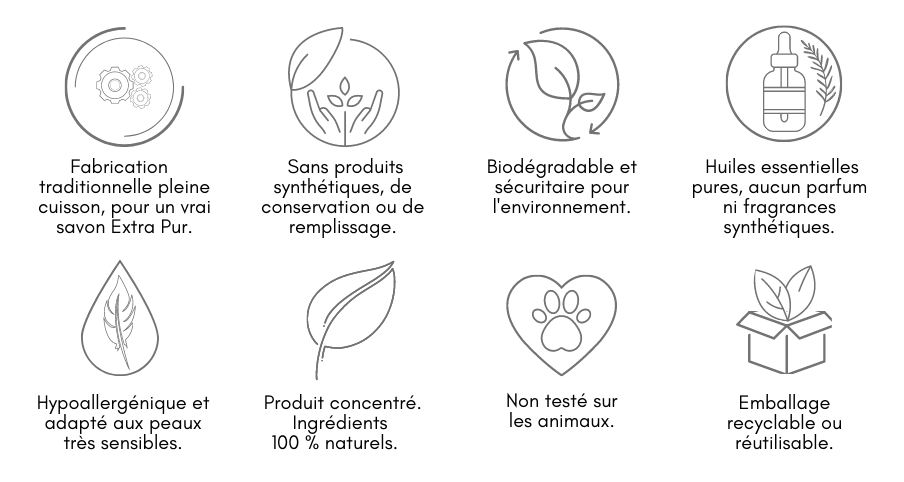 USAGE TIPS
Thoroughly clean your feet using your Barefoot soap bar. Rinse well.
For best results, melt a small amount of shea butter between your hands and gently massage when still damp.
You can slip on a small cotton sock and off to bed! There you have it, it's simple, effective, and super pleasant!
To learn more about our SHEA BUTTER, click here!
INGREDIENTS
Saponified vegetable oils* (sodium vegetable oils), water, glycerin (resulting from the saponification of oils), natural aromas (essential oils and/or plant extracts), citric acid (lemon juice acid).
* Saponified by the traditional fully boiled process
Like all soaps, it should be kept dry between uses to extend its lifespan.
Avoid contact with the eyes. Do not ingest.
For external use only.
Tested by an external private laboratory. Hypoallergenic and non-irritating.