livraison gratuite dès 35$ d'achat au Canada
Login
Log in if you have an account
Dont have an account? Register
Product description
THE MORE YOU BUY, THE MORE YOU SAVE!
Because Borale's mission is to offer you the best product, and make it accessible to everyone, our Master Soapmaker has used his expertise to offer you an economical version of the famous Borale Extra Pure Soap bar.
This bar is also made using the traditional full-cook method according to Borale's traditional craftsmanship. By using more cost-effective vegetable oils, Borale offers you a quality product at a lower price.
For a limited time, while supplies last.
FOR EACH BAR SOLD, BORALE WILL DONATE 2 BARS TO THE L'ESCALE DE BAIE-COMEAU, FOOD BANK.
WHAT IS THE DIFFERENCE BETWEEN IMPERFECTS AND ECONOMICAL?
The Economical soap is saponified from a blend of more affordable oils that our Master Soapmaker has specifically worked on to create a good, more economical soap.
The Imperfects, are bars that are set aside either due to their shape or weight, which do not meet our aesthetic criteria. They are, like Borale bars, made from a blend of noble oils that provide a silkier, softer, and richer texture.
In addition, the imperfects are sold in bundled lots, and the Economicals are sold individually with quantity discounts.
FORMATS AND SIZES
Small size; approximately 110g*.
* The weight and size of a soap bar may vary slightly over time depending on its moisture content. As the soap dries, it becomes lighter but more concentrated. However, the amount of soap paste in each bar remains the same.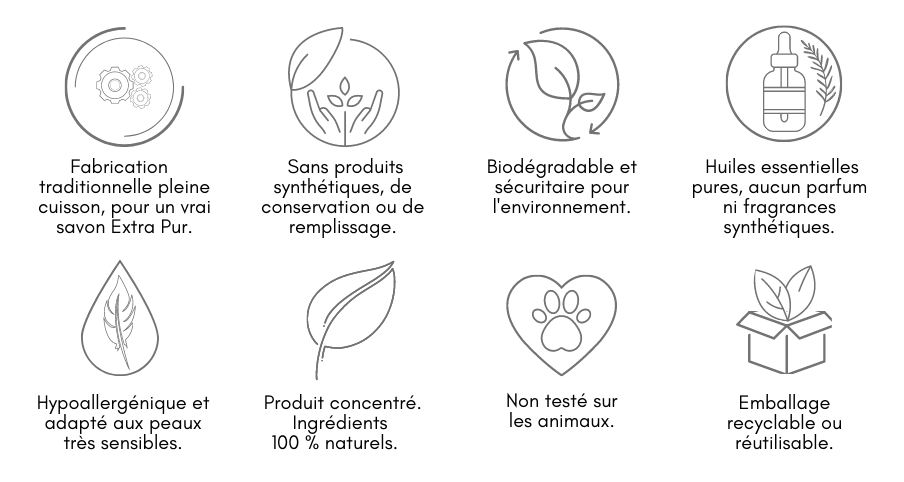 INGREDIENTS
Saponified vegetable oils* (sodium vegetable oils), water, glycerin (resulting from the saponification of oils), natural aromas (essential oils and/or plant extracts), citric acid (lemon juice acid).
* Saponified by the traditional fully boiled process
Like all soaps, it should be kept dry between uses to extend its lifespan.
Avoid contact with the eyes. Do not ingest.
For external use only.
Tested by an external private laboratory. Hypoallergenic and non-irritating.
Other aromas available