livraison gratuite dès 35$ d'achat au Canada
Login
Log in if you have an account
Dont have an account? Register
Product description
Made from natural ingredients and crafted using the traditional full-cooking method, Borale's Kitchen Soap Bar is designed for effective hand cleaning in the kitchen. Enriched with plant extracts, specially selected for this purpose, it enhances its antibacterial and antimicrobial properties.
This bar will remove stubborn food odors from your hands without leaving an unpleasant scent during food preparation and handling. It will become your kitchen classic!
It generates no waste as it does not require any special packaging, making it a very eco-friendly choice due to its durability.
HOW TO USE:
The same way you would use any hand soap.
1- Wet your hands with warm water and lather the bar between your hands until you achieve a smooth texture.
2- Rub your hands to create a lather and scrub each area of your hands up to your wrists for 20 to 30 seconds.
3- Rinse thoroughly with warm water and dry your hands well.
What matters most and makes the difference between a simple wash and a good one is the duration of scrubbing.
Don't forget...
To keep your soap for a long time, it's best if it dries between uses and is placed on a soap dish or a clean cloth to prevent it from soaking and to dry properly.
Advantages:
- Removes strong food odors from hands
- Leaves hands soft and hydrated*
- Antibacterial and antimicrobial
- Degreaser
- Zero waste, no need for bottles or packaging
- Leaves no unpleasant scent on hands for food preparation and handling.
- Ideal for camping or outdoor activities
- Economical and durable (highly concentrated)
*Please note that a soap's role is not to hydrate the skin. If such a claim is made, it indicates false representation or the addition of additives that will dilute the soap's cleansing power and compromise its effectiveness. Using a true Extra Pur soap allows you to maintain the skin's natural hydration and prevents it from drying out. This is an important distinction.
The kitchen hand soap is presented in a bar of approximately 200g* and is sold individually, without packaging.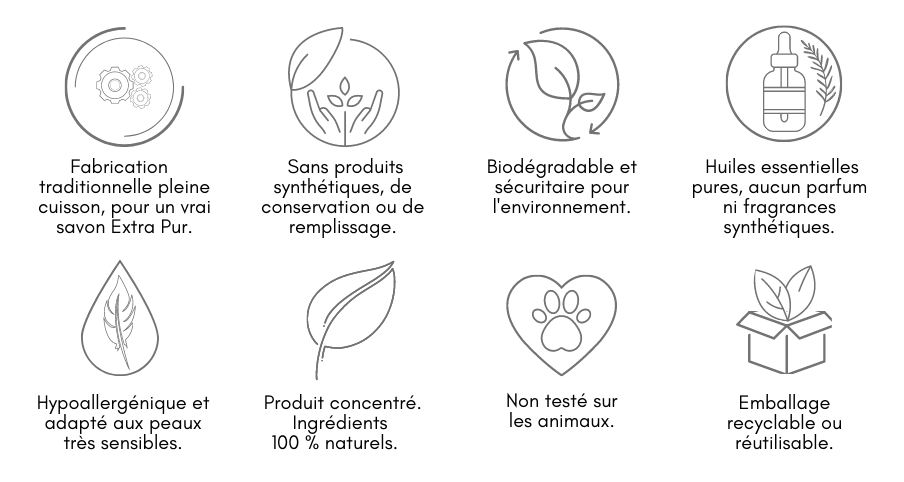 INGREDIENTS
Saponified vegetable oils* (sodium vegetable oils), water, glycerin (resulting from the saponification of oils), natural aromas (essential oils and/or plant extracts), citric acid (lemon juice acid).
* Saponified by the traditional fully boiled process
Like all soaps, it should be kept dry between uses to extend its lifespan.
Avoid contact with the eyes. Do not ingest.
For external use only.
Tested by an external private laboratory. Hypoallergenic and non-irritating.
Other aromas available